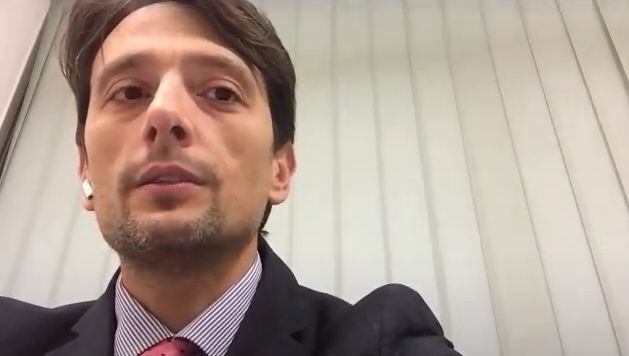 Interviews
30.05.2022 |
Teodor BURNAR
Mr. Claudio Di Napoli (Italy): "The relationship between Lawyers and Clients has changed forever"
Will traditional lawyers' offices be replaced by offices in the metaverse or, better yet – in the WOLEP network? And how is the financial crisis affecting the livelihood of Clients and Lawyers across Italy? We share an insider's view in the second part of our WOLEP Talk with Mr. Claudio Di Napoli, our WOLEP member from the Peninsula.
Q: What is the most important lesson that you have learned during this pandemic? Has something changed in your working routine?
A: Without a doubt! The first lesson is that what you are at this moment can change - you will not be the same professional, or you will not have the same impact, tomorrow. If you are now a seller or a lawyer or a consultant, an engineer, there's no guarantee that it will last forever. If you feel safe about something, there's a good chance it will change. So you have to expand your horizon and knowledge. It's both difficult and beautiful – difficult, because you have to study day by day and your knowledge is never enough. And it's beautiful because it makes you a better professional and a better human being.
On a more practical level, nowadays in business, when you gain two thousand euros from a Client, you have to set aside two hundred for taxes, two hundred for the commission, two hundred for you, two hundred for insurance, two hundred for the pandemic emergencies... (laughs). This is how it's all budgeted from now on.
Q: How would you describe recent developments in Italian law? Were there significant changes for you, alongside the previously discussed suspension?
A: Firstly, I had a contract with a studio of 140 square meters. My office was divided into five rooms. But due to the pandemic, I closed that relationship, and now I share an office with my associate, of only two rooms.
It is also clear to me that the relationship between lawyers and other professionals and our Clients changed forever. The Clients realised that they can approach you with a tablet, with a phone, on WhatsApp, on email. The Government let us have this kind of relationship with the Clients. So you can give me your procura, by video or by email. This is the first important change due to the pandemic.
I actually consider, for the future, to not have an office. I studied trends in legal law offices in Milan and Florence, and the tendency is to not have a traditional office anymore, but to be flexible, smart, delocalized, and to have an office when you need an office. So you pay a hotel or a private solution for one day. You rent the office for one day, two days, a week. I think it is a kind of post-industrialised evolution for us. So I consider this probability because of what happened in the last two years.
I actually consider, for the future, to not have an office. I studied trends in legal law offices in Milan and Florence, and the tendency is to not have a traditional office anymore, but to be flexible, smart, delocalized, and to have an office when you need an office
Last but not least, the Italian Government has changed, so now we have Mario Draghi as PM, and a new Justice Minister, Marta Cartabia. She has just initiated a new reform of Justice. So in these months we have had to study a new kind of civil process.
Q: There's been a lot of talk lately about the "metaverse" and setting up office in this digital world. Do you consider at some point doing the same – opening a virtual office for your Clients?
A: Absolutely! As I said previously, times change and history is changing everyday, so we have to adapt. So yesterday we had physical offices, now we've moved online, now I am studying Internet Law and for tomorrow we have to study Metaverse law. You can now see that NFTs are the future of digital assets, no?
So, maybe tomorrow I will pay you in Bitcoins. It just becomes the way of doing things. I think a successful lawyer is versatile and can spot trends as they develop, and goes with the flow.
Q: I know you are also a specialist in ADR (Alternative Dispute Resolution), which is very effective, but it is not always the most straightforward process. Not many people reach that stage, because litigation still has many fans. Do you have an interesting story to share, involving ADR?
A: Yes, because in the pandemic emergency, with the suspension of the activity in courts, when the Client called me and said "I have a problem, as the rent contract of my house / office etc. is running but I can't pay because I'm not working", I had to consider a new kind of solution, as I couldn't reach the Court because of the suspension. So, at the recommendation of the Justice Ministry, all of us considered ADR. It was a kind of last solution, between nothing and trying to reach a result for both parts. At the moment it was a good solution during a negative moment. I now prefer to propose this solution to my Clients. Also with Amazon – if previously I went straight to Court, now I prefer to talk to my Clients about this kind of solution.
Alternative Dispute Resolution proved a good solution at a negative moment. It made Clients see there is another way of settling disputes
Previously, the other party was not open to such an approach. From three actions, you would get three "no". Now, more than 50% are interested and value this kind of solution. ADR has many advantages: you pay less, you have tax benefits, and so on.
Q: Can you name one major difficulty in today's legal system which affects both you and your Clients?
A: Actually, the biggest problem is money. People don't have money and, after these two years, people prefer to have a problem and not to pay to try to solve it. Previously, people chose litigation, went to Court, whereas now Clients prefer not to take action because they don't have money. At the same time it makes me sad, but I also feel paralyzed in my job. So I think now, this is the most important problem – not the suspension, not the reform of Justice, but the money. People worry about the future, they don't feel safe, and don't have money. All of us deal with financial problems nowadays.
Q: Are you open to collaborations within the WOLEP network? Please share a message to your fellow Lawyers in our network.
A: I recently wrote on LinkedIn that networking between lawyers is one of the most important things in our field. For example, the first thing I did in the WOLEP dashboard was to leave a message, because I was looking for a lawyer in Novara, another city in Italy. And I think that the sharing of values, of competences and activities, but also meeting other peers is essential, today more than yesterday.
I feel strongly that networking between Lawyers is one of the most important things in our field
Q: What's the best advice that you've received from your mentor?
A: He told me that you have to study every single day. This rang true especially during the pandemic, because if you study constantly, it can take you a long way. And I'm not talking about locking yourself in the library, but also about improving your personal skills, you way of handling a Client for example. It's a process, this daily development of your personal set of skills.