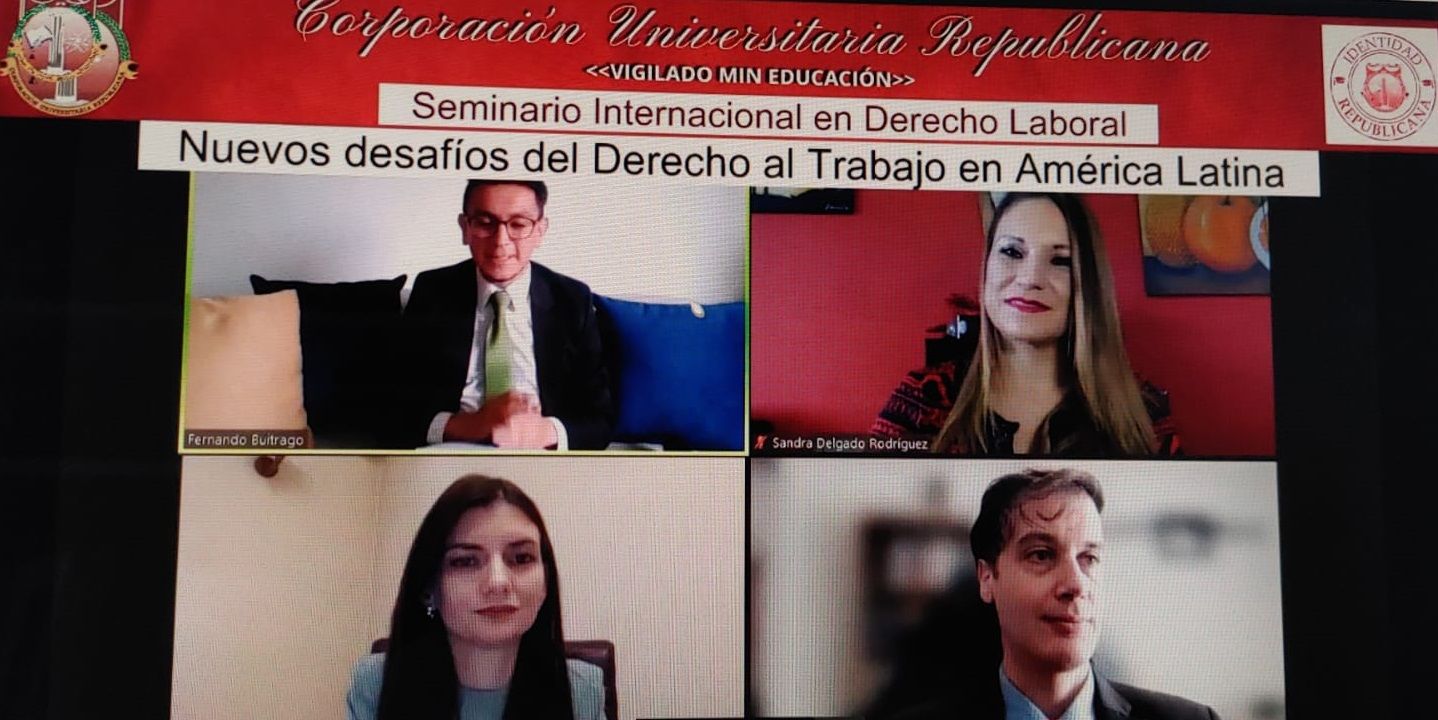 Exclusive
13.05.2022 |
Adelina Zapis, Teodor Burnar
WOLEP members were the stars of an International Seminar on Labour Law in Latin America
On Wednesday 11 May 2022, an International Labour Law Seminar was held online under the auspices of Corporación Universitaria Republicana, with several WOLEP members participating and speaking. The moderator was Colombian lawyer William Fernando Buitrago Valderrama, who was joined by lawyers Sandra Delgado Rodríguez (Colombian WOLEP member working in Panama), Damián Bes (Argentina) and by Adelina Zapis, Head of Network Development at WOLEP. The theme of the seminar was "New challenges of Labour Law in Latin America".
The first speaker was Mr. Damián Bes, who pointed out that new technologies bring challenges to the work of professionals in the field. "We are in a very fast-changing scenario, and we lawyers, who have been trained in law, in a technology that everybody knows - ink and paper - we have now been given a new technology, which is bits and this artificial language which is binary language."
The WOLEP member pointed out that technological progress fundamentally affects the labour market: "In the past, technological progress was not as sudden as it is now; after 20-30 years, a person driving a car could be retrained to work on steam engines. So this technological leap, although it created problems for people who were left out of the system, the speed with which it happened allowed them to readjust. This is not the case today, because a supermarket cashier cannot quickly retrain to become a programmer or drone driver. The skills required and the need for training for this educational leap to take place in unskilled work takes more time than the technology itself. And that's why today, in the labour markets, we find a niche such as, for example, programmers, which is understaffed, whereas there is a surplus of retail employees and people can't find jobs."
A supermarket cashier cannot quickly retrain to become a programmer or drone driver. – Mr. Damián Bes (WOLEP member, Argentina)
Only retraining can counter future unemployment
Mr. Damián Bes stressed that "labour law requires a certain fairness", and that technology creates great inequalities: "Today, a candidate who does not have access to the internet is left outside the system and cannot apply for a job," while 40% of the world's population does not have access to the internet.
Bes also said that "One can speak of a triumvirate: the workers, the employer and the state, on behalf of all, as a necessary third pillar for negotiating working conditions" and "The lack of jobs is not general, but only in certain sectors." He evoked various solutions that are being sought worldwide to combat the lack of jobs, such as the Universal Basic Income, reducing the working day without reducing pay, or taxing the digital divide.
Asked whether the future will bring an explosion in unemployment, the WOLEP lawyer said, "Yes, it is the problem we see coming and we all need to commit to thinking about solutions." In the specific case of Latin America, the problem can be combated through retraining, Bes said. "Both unions, the state and companies need to put a strong emphasis on retraining jobs that are known to be disappearing into jobs that are known to be needed. And that has to start at school."
The migrant workers problem, a serious one in Panama
In turn, lawyer Sandra Delgado Rodríguez addressed the role of administrative jurisdiction as a guarantor of labour rights, giving a broad analysis of the system in Panama. Referring to the issue of migrant workers, she said "This is one of the most serious situations in Panama, where many migration and labour regulations have changed a lot. There is a regulation in the Labour Code that prohibits companies from having more than 10% of their employees being foreign nationals. This is not happening because there are employers who are not interested in this margin provided by the labour law and hire people outside the legal requirements in the workplace. Both Panamanians and migrants have the same employment options and rights as long as they are in a legal framework in the country. There have been cases where people without valid documents have presented themselves to this jurisdiction or to the Ministry of Labour, and the first thing the Ministry did was to ask for formalities and documents. Moreover, a contract stamped by the Ministry of Labour is required for the employment of a worker. But if the Ministry of Labour sees that it is an illegal worker, it will not stamp the contract. Migrants will always have their immigration status legalized, and if they don't, they will lose their rights, barring accidents or something serious to the worker, and the employer is liable and can be sued for it. In general, there is a lot of off-the-books work, so to speak, and there are penalties. The employer who employs foreigners over the limit or who has employees illegally, can be fined 10 thousand dollars the first time, the second time the fine is increased and, in case of a repeat offence, it can even lead to the cancellation of the license to operate his company. They have become very strict because of the number of migrants working illegally."
Benefits were granted, some situations regarding labour contracts were made more flexible, but no public policy was generated as a result of this pandemic – Mrs. Sandra Delgado Rodríguez (Colombian WOLEP member, working in Panama)
Mrs. Delgado noted that during the COVID-19 pandemic in Panama "Benefits were granted, some situations regarding labour contracts were made more flexible, but no public policy was generated as a result of this emergency. Unemployment is very high in Panama, there are protests because of rising petrol prices, transport, lack of jobs, health - everything is badly affected because of the pandemic."
In conclusion, Delgado said that whereas "Here (in Panama) the laws are very basic. To profess in Colombia is not the same as to profess in Panama. First of all, we are talking about population: Panama has 5 million inhabitants, Colombia has 50 million. In terms of legislation, Colombia is much better prepared to face new labour challenges."
The Labour Law-themed seminar organised by Corporación Universitaria Republicana and the WOLEP network of international lawyers proved to be a success, as evidenced by the good reception and the wide-ranging discussions generated by both our members' presentations and the Q&A session that followed them.